Llorens Planas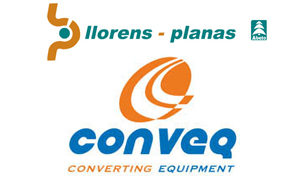 LlorensPlanas is the manufacturer of rewinding machines from Spain
Catalan company LlorensPlanas occupies a leading position thanks to innovative approach to the design process and high quality of manufactured equipment in the ranking of manufacturers of equipment for paper processing and packaging materials. The plant began operations in 1953, gradually conquering the market of South America, and later Europe. The 1st place in the competition "Barcinopack" (1974) is worth noting among the achievements of this manufacturer.
The range of equipment and its technological capabilities are constantly updated due to innovations in the market of packaging products. In due time LlorensPlanas produced machines for processing of fabric paper and plastic (1984), and in 2000 there was a line capable to work with glued materials.
Rewinding machines from this manufacturer are especially appreciated. With their help the winding of coilers is performed quickly and with high accuracy, herewith:
the possibility of web break is reduced;
material waste is minimized;
precise trimming of edge and end sections is ensured.
The growing demand for LlorensPlanas products made it necessary to expand the production capacity and since 2004 the company has moved into new modern buildings, where now it continues producing reliable machines, including rewinding machines, presented on our website.