Kampf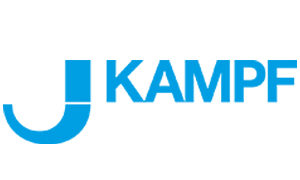 Kampf Conslit: German quality for new and regular customers
German quality of any mechanisms always remains irreproachable. This truth is confirmed by Kampf Conslit, which is one of the world leaders in the manufacturing of rewinding machines. Its products meet all modern requirements and are successfully exported to various countries of the world.
This enterprise began its production activity in 1920 and became one of the main suppliers of equipment for paper manufacturing factories. For nearly a century of experience, Kampf Conslit engineers managed to patent several original solutions that at one time allowed the German manufacturer to remain beyond competition.
Today this enterprise pays maximum attention to its customers, offering a program of upgrading the equipment released in 1990-2000 years. Herewith Kampf performs the following operations with old rewinding machines and with the old winding machines and slitter coilers:
all worn components are replaced with new original components;
modern controllers and converters are installed;
advanced control units are connected;
optimization and reprogramming of modes is performed, as well as their testing.
This policy, aimed to continuous improvement of operating parameters of its equipment, allows to provide Kampf slitter coilers at the best possible price and maintain reliable and professional brand image.